This summer, I found a bakery near the Second Narrows Bridge that makes some gluten-free vegan sweets. Although the Sweet Tooth Cakery's menu differs each week, they consistently have two or three different vegan cupcake flavours, scones, cookies, and other sweets as well as hot dog buns, bagels, and baguettes. They also take special orders for vegan cakes and have a beatiful cake-decorating portfolio. Here is a sampling of some of the desserts I've brought home.
Mini carrot cake with maple icing
Vegan rice crispy treat – made with vegan marshmallows
Chocolate cupcake – they have two or three cupcakes each week such as maple, coconut, and others
Raspberry jelly roll and cinnamon bun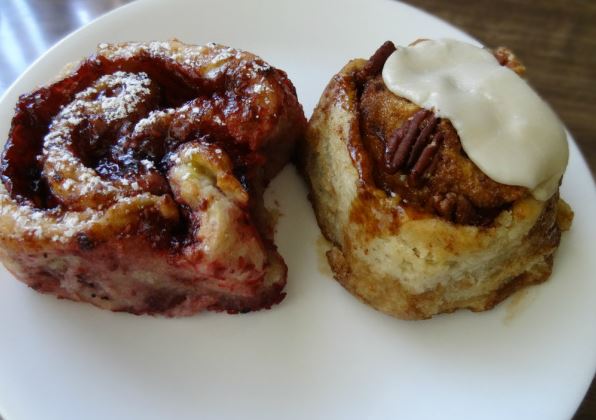 Although everything I've tasted so far has been great, the cinnamon bun was my favourite. I think this is in part because they toasted the pecans, a simple step that wins me over every time. I've tried gluten-free goods that did not hold up texture-wise — not the case here.
Although Sweet Tooth Cakery is a little off the beaten path for me, these dessert options are still fairly close to home. They are located at 2055 Old Dollarton Road, which is about a 5-10 minute walk from Phibbs exchange if taking public transit.